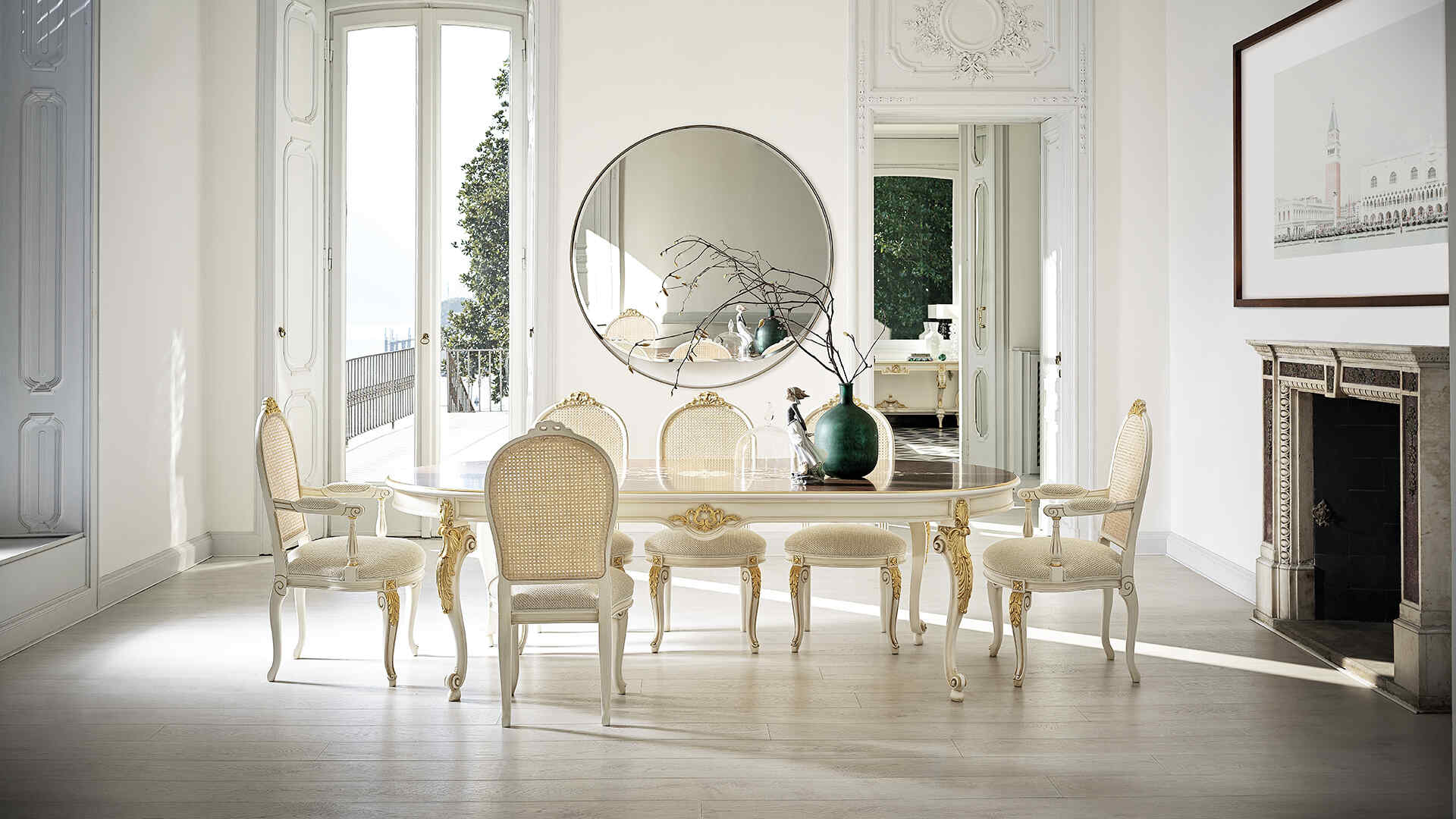 20 Jun

Luxury classic furniture: how to furnish your home in classic style

Posted at 10:00h

in Uncategorized
Luxury classic furniture: how to furnish your home in classic style
What is classical style, and especially how does it differ when applied to furniture? If we would like to find an adjective to define it, we will choose "timeless," or "immortal": in fact, classicism is equivalent to the ability to overcome passing fashions unscathed, maintaining unaltered a concept of style so elevated that it represents the epitome of good taste par excellence and the reference point even in later eras.
Who chooses to furnish his or her home in the classic style does not generally aim to recreate the past as much as to transport into the present stylings of elegance and refinement that are, by their very nature, timeless.
In interior design, the classical style of furniture produced today is inspired by particular historical eras by reinterpreting them with current sensibilities, so that furniture elements can maintain a recognizable aesthetic while adapting to the various functional needs of the rooms we inhabit. For one hundred and thirty-five years, Angelo Cappellini has been fulfilling precisely these design goals by reproducing valuable furniture in style so that it responds, with its quality and aesthetics, to all the needs of the contemporary lifestyle.
There is a deep nobility to classical-style furniture, a statement of intent and absolute attention to the care of materials, which translates into genuine beauty for each piece.
Wood is, in general, the main material for this type of furniture solutions: massive and finely crafted, with an important visual impact and capable of defining the character of spaces, it can be combined with glass, stones, sumptuous fabrics, marble, metals. The design of classic-style furniture elements will hardly be overly linear and minimalist: on the other hand, it will tell the story of the experience and aesthetic vision of talented master cabinetmakers with its refined and complex lines, capable of conveying authority and warmth in any room.
In interiors, the classical style is not limited to mere antiques but can also decline into proposals produced today in full compliance with the aesthetic dictates of a particular era. The result is the creation of immortal and fascinating settings in which each piece has its own well-defined role and aesthetic. The typical warm, neutral colors of furniture and accessories can be combined with artwork or sinuous textiles, paneling and wainscoting surfaces, enhancing the complexity of each detail through complete spaces.
Finally, it is important to remember that although the classic style often has some common characteristics, it does not only decline in one version-but it changes and evolves with historical periods and takes inspiration from them when made by contemporary companies such as Angelo Cappellini.
Timeless classics: Louis XIII, XV and XVI style furniture
Among the period furniture or classical pieces of furniture that are inspired by the aesthetics of the past, Louis XIII, XV and XVI styles are still among the most popular and appreciated.
With the Louis XIII style we find ourselves immersed in a transitional phase that, temporally, lies between the Renaissance and the Baroque. This is the time of aesthetic suggestions from the Flanders, reflected in furniture exuberant in decoration and monumental in size.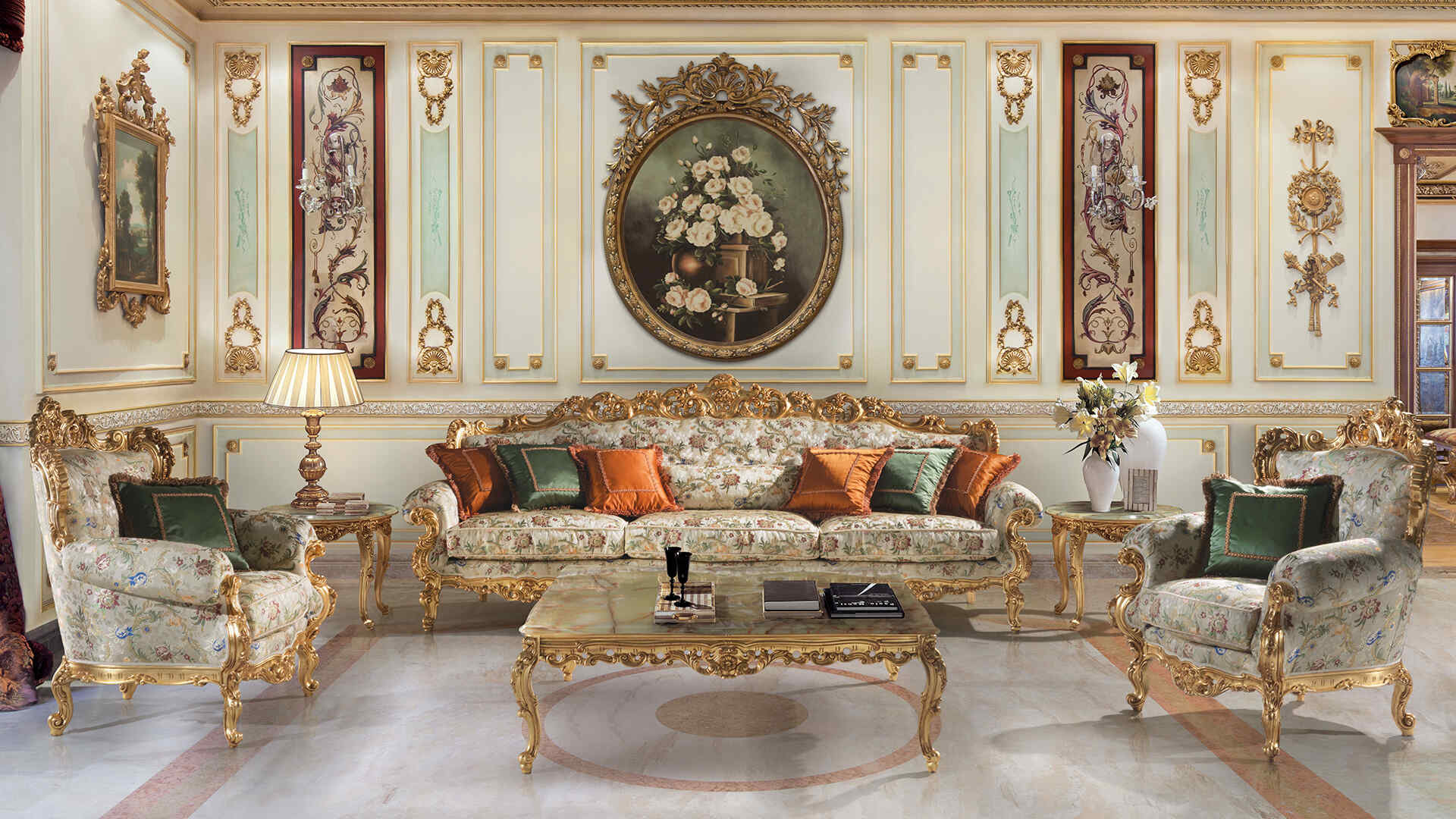 Wood is still a major protagonist, but the list of materials now also includes expressive and frequent use of semi-precious stones, mother-of-pearl and ivory especially for inlays, inspired by the Baroque elegance of leaves and scrolls but also centered on zoomorphic motifs.
The strongly identifying element of Louis XIII-style furniture is the column, which is finely carved in various modes: spool, spiral, rock, and bulb. It is almost never an end in itself, but rather an integral part of chairs, armchairs and tables, whose legs it goes to form. It is a great contrast to the straight lines and geometric patterns that characterize panels and large surfaces, carefully crafted using diamond shapes.
As for the fabrics accompanying the furniture, on the other hand, there is an abundance of fringes and velvets, especially in green, burnished yellow, and red silk.
Now, more than ever, the aesthetics of the furniture element initiates to be associated with its comfort: the fixed upholstery of chairs and armchairs replaces cushions, upholstered furniture finds a place in living rooms and foyers, the closet replaces the traditional trunk, the sofa replaces the bench. It is the beginning of functional furniture as we know it today.
Louis XV-style furniture, originally popular between 1720 and 1760, is also characterized by particular distinctive features that make it instantly recognizable even today. The passion for the light-hearted sophistication of the French nobility of the period was combined with revolutionary technical innovations in woodworking, resulting in collections inspired by German and Italian Rococo but no less original.
The refinement of craftsmanship focuses on slimmer and tapered structures than in the past, light in scenic impact and made even more expressive by the presence of asymmetrical and sinuous lines. We are at a time in history of great change, and the courts prefer to think lightly-furnishing their rooms with less solemn and more imaginative furnishings. The interior design of the time is also marked by naturalism, the inclusion of rocaille ornaments (the shell shape) that becomes a leitmotif for the entire decorative scheme, the utmost precision of carvings that return floral motifs and patterns, highlighted by contrasting colors and light and dark.
More than anything, though, the Louis XV style furniture is the first one that really differentiates each piece in relation to its function: It is during this period that what we still know today by the name of "secrétaire", which increase the small tables used for environments as diverse as the living room, playroom, or dressing table, and where even the chairs and armchairs take different shapes depending on the application.
The most famous of the Louis XVI style armchairs? Almost surely the bergère, with its low, generous, soft seat, comfortable armrests, and backrest enhanced by headrests.
Louis XVI-style furniture, in turn, undergoes a new mutation: no more asymmetries and fanciful creative leaps, but rather monumental, massive and geometric forms that put aside the lightheartedness of the past, preferring instead a simpler, but still refined and elegant taste. Attention to detail is as usual, because technical perfection has at this point reached its apotheosis: the pieces are unique works of art, almost impossible to replicate copy after copy identically.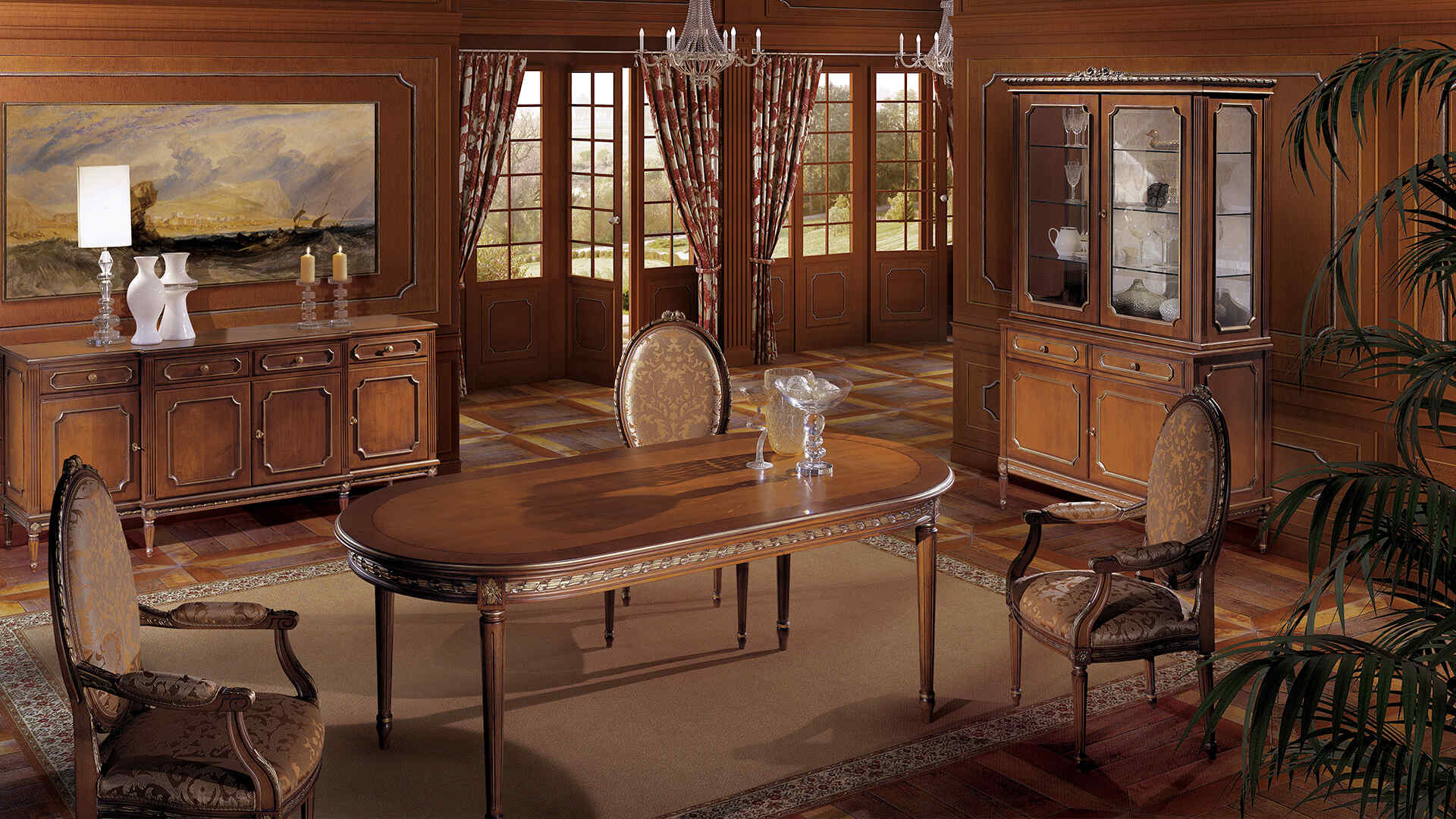 This style of furniture is what identifies the so-called golden age of French furniture, thanks in part to such renowned cabinetmakers as Adam Weisweiler and Jean Herni Riesener. Demands are mainly for medium-colored wood species, such as cherry and oak, but ebony and mahogany are also particularly popular because of their inherent preciousness. The great passion for color play and light and dark continues, and that for mixing different materials grows: tables and chests of drawers often have light marble tops, while silk embellishes the seats.
Finally, with regard to the decorative elements, there is a return to rigor in Louis XVI furniture compared to the Louis XVI style: inlays are geometric, restrained and elegant, often focused on the depiction of chimeras and mythological iconography-although the presence of garlands, festoons, floral motifs and laurel leaves does not disappear entirely.
Empire and Biedermeier style furniture
As for the Empire style, which spread in France in 1801 and lasted for the next two decades, it was an expression of architectural magnificence applied also to interior decoration.
We are faced with a neoclassical style that is inspired, essentially, by ancient Roman, Greek, and even Egyptian achievements while returning to their essence: the curved lines of the past are abandoned to make way for square and decidedly simpler designs, but above all capable of enhancing proportions and symmetries.
The result is not a furniture that is more discreet in its aesthetics, quite the contrary: simplicity does not mean stylistic poverty, but rather attention to essentiality in both the most linear and the most complex realizations. With Empire-style furniture, we are faced with what might be called "reasoned luxury" that does not wish to show off opulence for its own sake but tells of elegant and functional environments even when not as generous in size as grand palaces.
These are the features that make the Empire style so beloved even today: the regal and stately atmosphere declined through symmetries and proportions, for an interior design that must necessarily pay attention to the correct combination of furniture and furnishings to really "work".
And functionality is also the word for Biedermeier furniture: simple, geometric lines are still in place, and there seems to be no more room for the lavish decorations of yesteryear or bronze ornaments. The elegance, however, remains unchanged and classic, timeless and eternal-so much so that it also finds a place in today's homes. The furniture is certainly ornate, but the focus is on the natural design of the wood or the contrast between lighter and darker woods.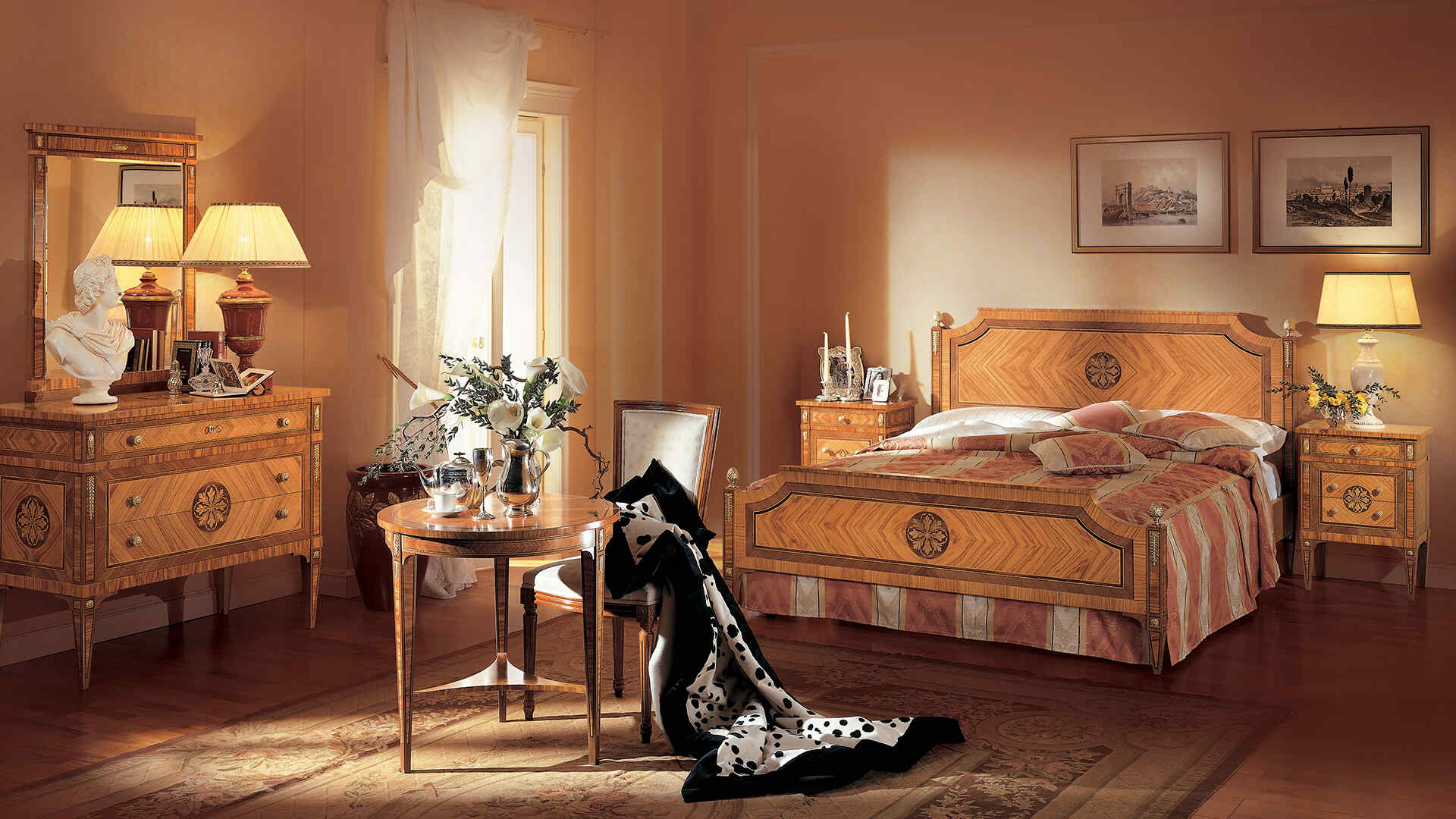 Material types are also changing: to the intense appeal of dark mahogany, wood species in lighter shades such as walnut and beech are now preferred, with veneers in ash, birch, and cherry on the less visible portions of the furniture.Material types are also changing: to the intense appeal of dark mahogany, wood species in lighter shades such as walnut and beech are now preferred, with veneers in ash, beech, and cherry on the less visible portions of the furniture.
Decorative iconography puts aside anything that tells of martial imperial aesthetics in favor of geometric shapes such as diamonds and rectangles, or naturalistic figures rendered with extraordinary craftsmanship techniques that are curated and extremely avant-garde compared to the previous period.
Biedermeier-style furniture favors the presence of buffets, elegant chests of drawers and secrétaires that are inherited from the Empire style, albeit softened in proportion and shrunk in size. New pieces of furniture were also born, such as the drop-front secrétaire and the showcase servant's sideboard, while the centerpiece piece of furniture seemed to be the cappuccina-style commode, with its doors with internal drawers and shaped belt.
The furnishing philosophy of the period is comfort-oriented-a concept carried through time and present even in the homes we live in today.
Luxury that knows no trends: matching classic style furniture for immortal elegance
We are confident that having introduced the most famous and appreciated classic furniture styles, still in high demand today for residential interior design (and not only), has helped to understand how it is possible to define a "modern" interior design that refers to those aesthetics and specific peculiarities by finding a trait d'union between past and present.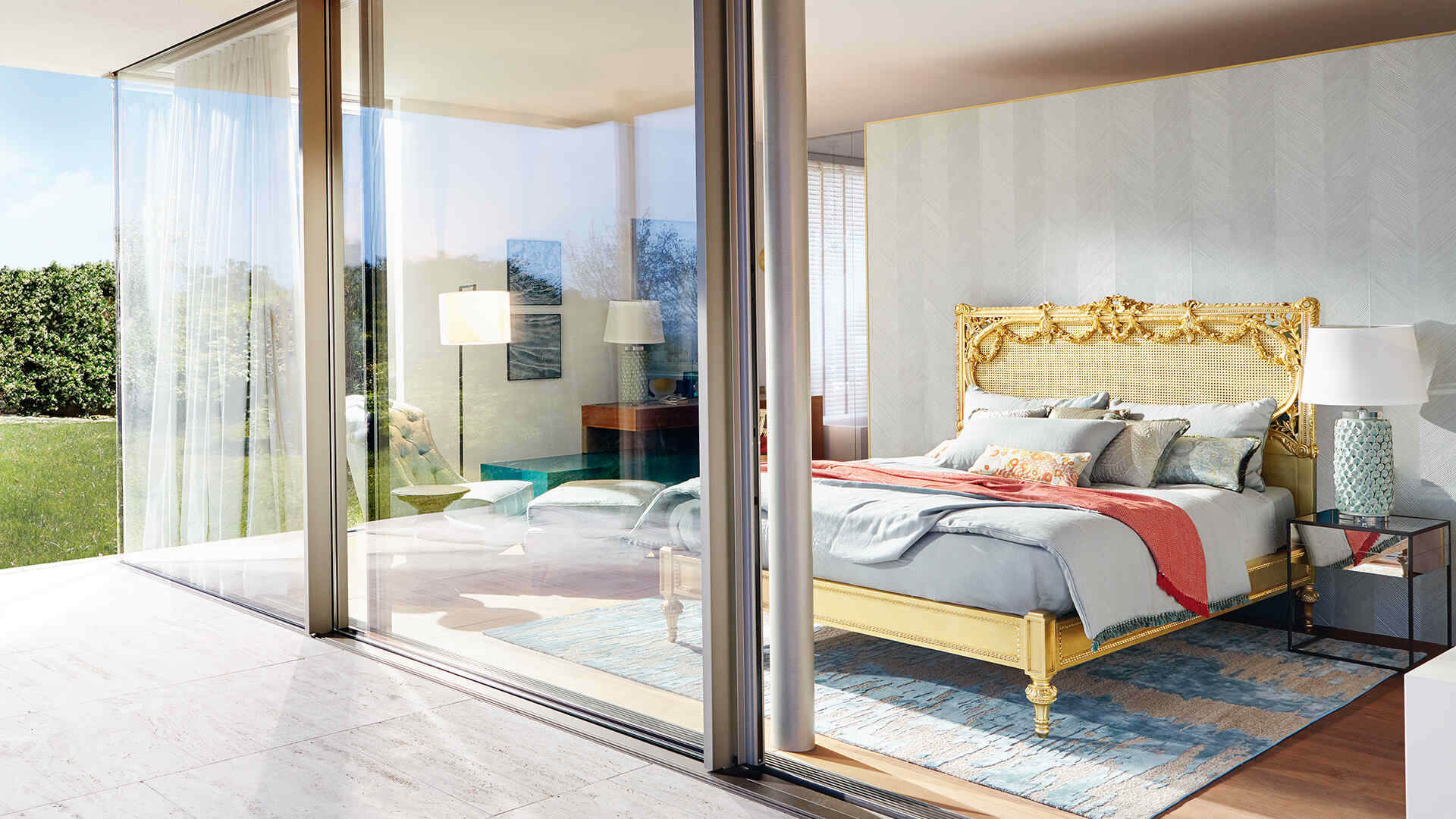 The combination of classical-style furniture, whether referring to a particular historical period or expressing a mixture of different and complementary styles, still gives rise to rooms of the utmost elegance and absolute value. The imprinting remains warm, welcoming, perfect for those who fall in love with a single piece of furniture and then extend their passion to complete interior projects.
Today, furnishing a home with classical style means telling, in the present, the stylistic perfection of the past.
Would you like to furnish your home in style with the support of Angelo Cappellini's art directors? We are at your complete disposal to offer our consulting services.