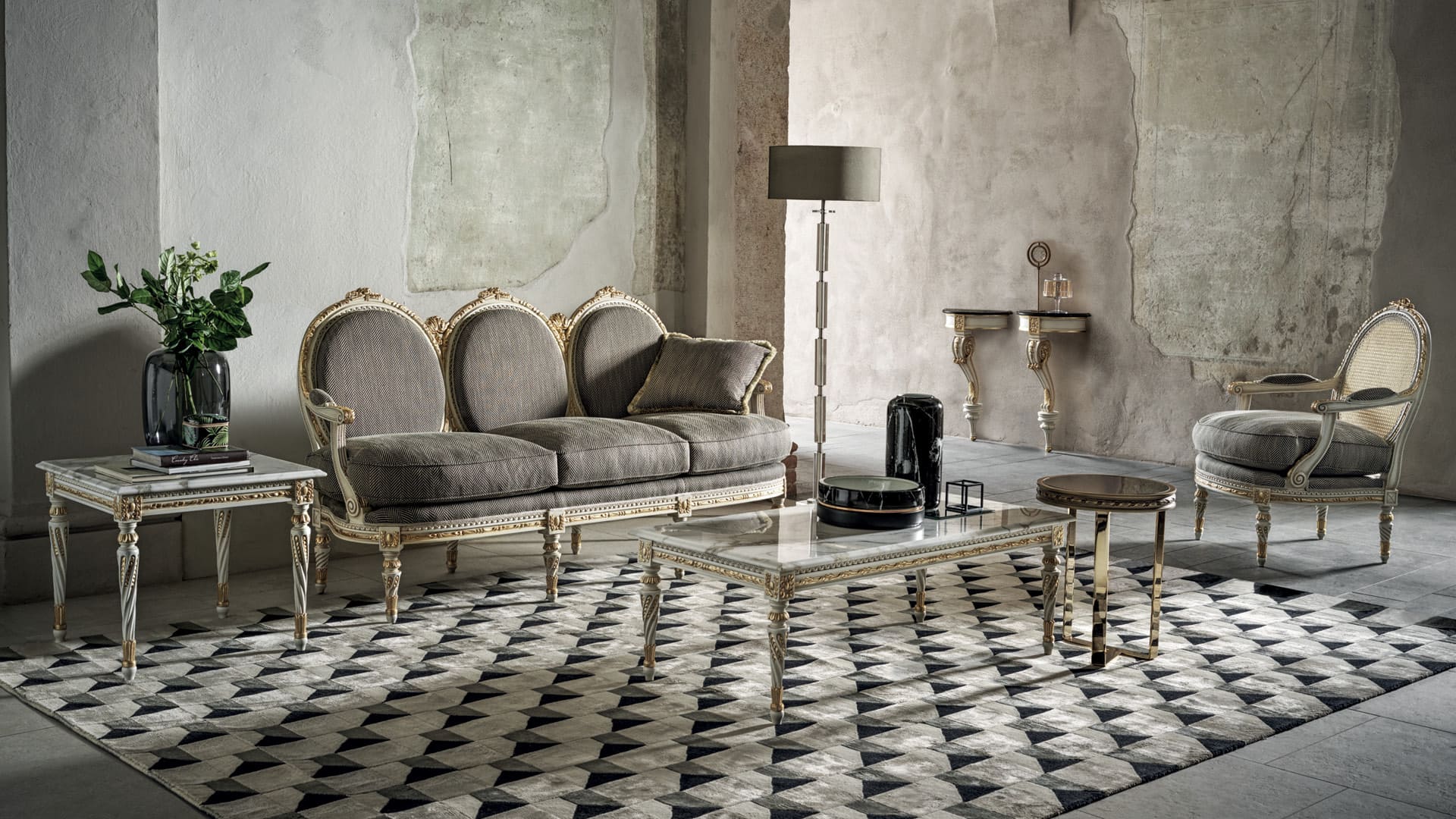 18 Jul

Louis XVI furniture: timeless uniqueness for every area of the home
Louis XVI furniture: timeless uniqueness for every area of the home
From 1760 to 1790, the Louis XVI style replaced the graceful lines and curves of the Rococo and did so in what, back then, was considered a groundbreaking fashion. This interior design style utilized straight lines and classical influences in its central themes, creating pieces that, although less substantial compared to the Louis XIV design, showcased a more refined version of the Louis XV style.
The Louis XVI style marks the end of French baroque architecture and the beginning of French neoclassicism. Its timeline wasn't especially extensive – this style lasted merely thirty years – yet its main traits persisted far into the Empire era at the start of the nineteenth century and, even today, are among the most appreciated for classic yet timeless interior design projects.
What are the main features defining Louis XVI furniture?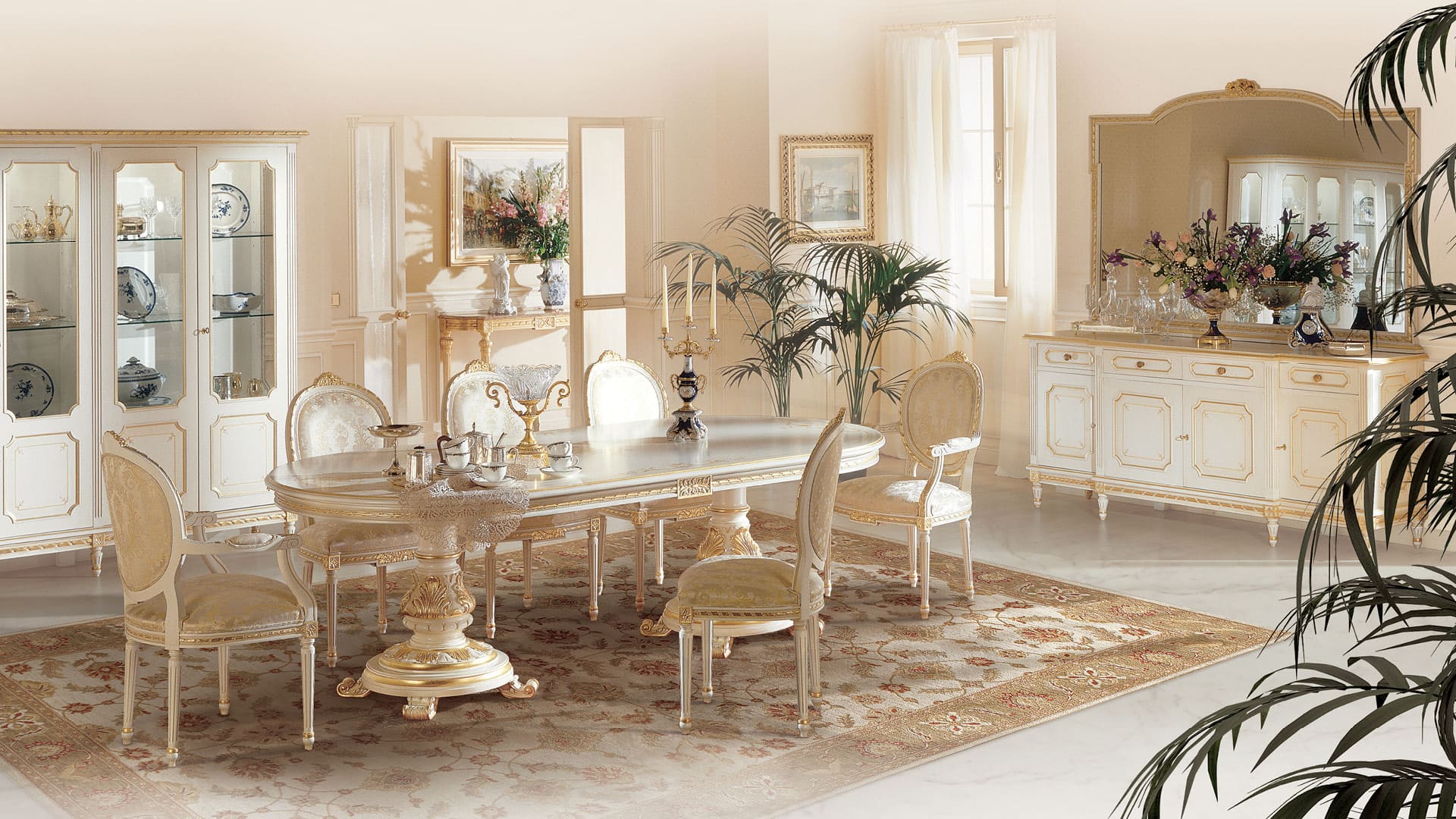 Sometimes referred to as Louis Seize, Louis XVI furniture is renowned for adhering to the principles of English Neoclassicism, which was a popular style at the time. The reason for this synergy is relatively straightforward: both styles called for a return to Classical Antiquity's aesthetics and principles and were inspired by the artwork, sculptures and architectural remains from Pompeii and Herculaneum recently discovered.
What is especially interesting is that the features that most define Louis XVI furniture are likely why this is the most popular Louis style today: straighter lines, right angles, austerity and aesthetical sobriety, logical and multifunctional design. The showy and ostentatious curves and bows of the earlier Louis styles are put aside in favor of more linear and often rectangular forms, and even the cabriole leg, typical of the chairs of the Régence and Louis XV, is replaced by straight, tapering and frequently fluted legs.
As far as the ornaments go, Louis XVI furniture prefers decorative themes such as fluting and columns, human features, floral and fauna-inspired decorations, often encircled by geometric trims and oval or round medallions.
In this style that focuses on by-symmetric balance, painted wood, gold leaf and moulding all contribute to an overall stunning visual effect, enhanced by the richness of materials used: marble, bronze, oak, mahogany (the most popular of wood essences), walnut, ash, ebony, porcelain, copper, and steel. Nearly all Louis XVI furniture was symmetrically decorated with lithe, exquisitely crafted bronze fittings as corner ornaments.
Finally, the color palette shows an absolute preference for pastel or even neutral nuances. It's a stylistic choice, of course, but also a political statement: the frivolous settings of the past are replaced by spaces that demonstrate a more mature social awareness and a detachment from the majestic royal courts of the Roi Soleil and his descendant.
Louis XVI furniture for your living area: a triumph of gracefulness and visual balance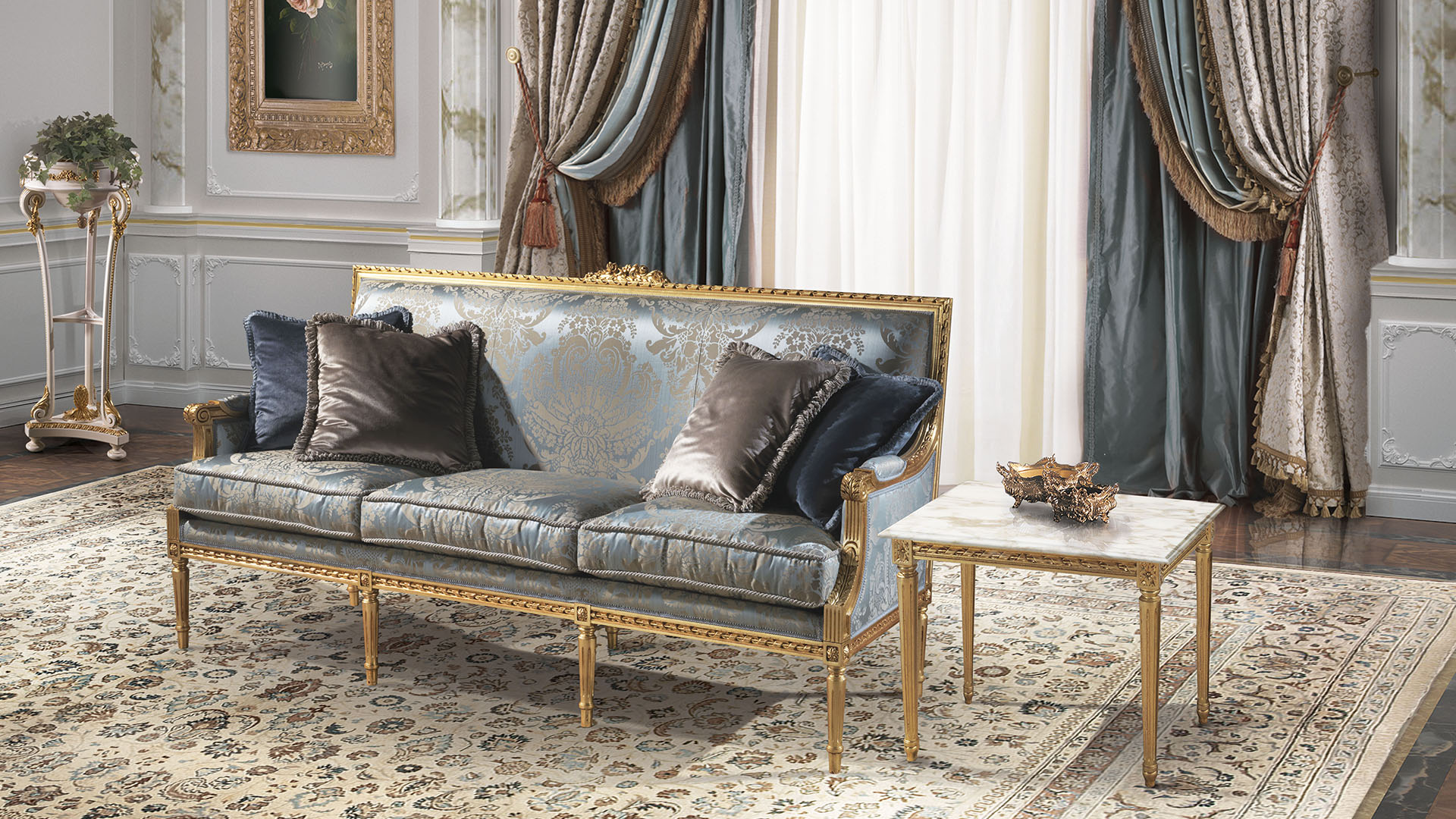 Choosing Louis XVI furniture for the living area allows the designer to create an environment that is both perfectly balanced from a visual point of view and graceful in its precious details.
One of its main elements is certainly the chair which, according to this style, is not only built for comfort and practicality but also for sheer aesthetic value. The Louis XVI style favors chairs featuring straight legs, often fluted and tapered; squared or oval-shaped upright backs; and painted, gilded or carved ornamentation at the corners (rosettes and flowers are especially dominant).
In a living room, Louis XVI-style chairs are pieces designed to rest and relax but also, first and foremost, to be noticed and appreciated like you would do with a sophisticated sculpture, mainly because they are often enriched with brocade upholstery textiles (although with softer and more subdued designs compared to the previous Louis styles). The same paradigm is applied to sofas, the real kings of living rooms: neat and light to the eye, these pieces are nonetheless luxurious and rich in materials and decorations. The curved or oval shape welcomes the guests, while details such as carvings and gold leaf remind them that a sofa is not just a sofa but a statement piece.
Large living rooms or dining rooms can also consider adding precious furniture pieces such as commodes and chests which, according to the rules of Louis XVI style, have crisp, square edges and lines, but also flat ends and fronts featuring bronze fittings. These pieces are versatile and multifunctional, as they can find their space even in bedrooms, and always showcase the perfect mixture of aesthetic elegance and objective usefulness.
The same could be said for cabinets, once again designed to create a synergy between visual appeal and function. Straight or parallel lines frequently border their flat surfaces and their overall look is all about square edges and lines. The peak of magnificent cabinet-making is, in fact, considered to be precisely during the reign of Louis XVI.
As far as tables go, Louis XVI furniture provides a wide range of solutions. Smaller living areas might benefit from round, oval or kidney-shaped tables, while large spaces could opt for square or rectangular models. Almost all Louis XVI-style tables are made of fruitwood or mahogany and preciously ornamented despite their straight and frequently tapered legs.
Louis XVI furniture for your bedrooms: the night area becomes an elegant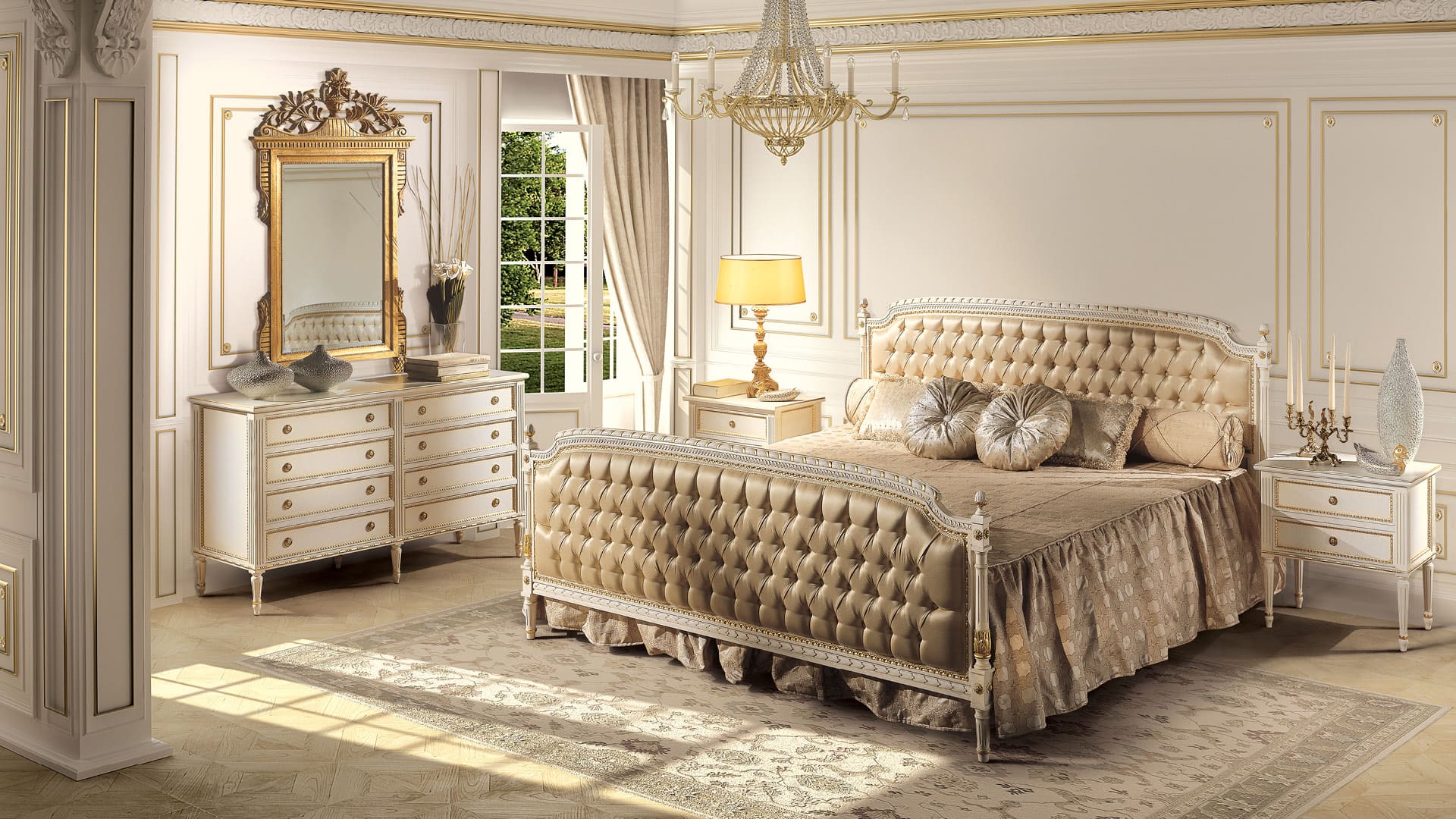 With Louis XVI furniture, luxury meets privacy and comfort in the night area. The refined complexity of this style's decorations is certainly one of the main themes that characterize its bedrooms, designed to be alcoves where one can relax and unwind completely.
Of course, the bed would be the main protagonist of the space: although Louis XVI furniture is also conceived for smaller settings compared to previous Louis styles, the bed remains preferably king size. The preferred material is, once again, wood – especially mahogany or walnut. Headboards are carefully and sophisticatedly upholstered with capitonné manufacturing and enriched with elegant carvings inspired by the natural world or geometric motifs (spirals are among this era's favorite decorations).
The beds made during the Louis XVI era are some of the largest ever constructed. They are typically separated from the rest of the room by a railing. Over the top of it is a beautiful canopy supported by a hand-carved, gilded hardwood frame to create hefty, luxurious volumes.
The "luxury classic" appeal that Louis XVI furniture evokes is especially evident, if not even straightforward, in the bedroom, and not only because of the gold leaf details and rich moulding. It's also because of the richness of pieces available.
Desks, for example, are available in two main versions: the first, featuring a bureau plat (a flat-top desk) and adornment made of bronze or copper moulding on drawer panels; the second, shaped like a tall, cabinet-like piece with a pull-down desk panel. The latter, called secrétaires à abattant or fall-top secretaries, can be seen as multifunctional elements that also fit in beautifully in night areas, just as much as decorative yet useful pieces such as tabourets, armchairs and folding stools.
The multifaceted nature of the Louis XVI style is as evident in the bedroom as it is in the living room: although more conservative than the earlier Rococo and Louis XV styles, Louis Seize remains opulent in taking its inspiration from classical antiquity and then enriching it with lush surfaces and architectural patterns replicated on furniture pieces.
What makes Louis XVI furniture a timeless choice for classic interior design
During the reign of King Louis XVI, tiny, rural getaways replaced the extreme grandeur of ceremonial halls and townhomes in large towns. And this is, in a nutshell, what makes Louis XVI furniture still so current, as it is one of the best classic furnishings to express your high living standard in a more delicate and current way.
Louis Seize's design incorporated both continuity and creativity. In many aspects, Louis XVI's furniture combined earlier centuries' styles, and although there was no radical revision or ideological about-face, the modifications turned French furniture into a thing of beauty. Compared to prior times, Louis XVI furniture has straighter lines and geometric designs, perfect for expressing the quiet opulence of today's classic interior design.
The artisans who created Louis XVI-style items valued the beauty they perceived in works from the past. Louis XVI furniture showcases the perfect trinity of coziness, intimacy, and elegance, which is an ideal trifecta whether you're seeking a few antiques to complement a modern scheme or want to finish a historic home.
Because of its understated elegance, Louis XVI furniture looks stunning in modern settings. There is no need to stick strictly to one style, and that is why so many classic interior design projects dare to blend modern art and sculpture with elaborate French furniture.
Angelo Cappellini, a leading brand in classic interior design luxury furniture, creates outstanding settings highlighting Louis XVI style's timeless charm. With the right combinations and customizations created by the company's stylists, this interior design can easily be actualized and updated to the client's aesthetical and functional requirements.
The result is an interior design project that fully embodies the stylistic choices of a sophisticated person with a taste for artisanal mastery, but also the artisans' exquisite talent while working on each piece.
Contact Angelo Cappellini's consultants and designers to create your unique project.